Multiplying Fractions by a Whole Number: Lesson Worksheets
Smarter Balanced Library - This is for teachers of districts who use this.  Free, but must sign in.  From test makers SBAC.  11 day, lesson-oriented worksheets.  Includes warm-ups, practice, homework, tasks, reflection, exit tickets, and teacher notes.
Worksheets - We have downloaded and converted the worksheets to printable PDF's for those who cannot access this. It won't include the teacher's notes.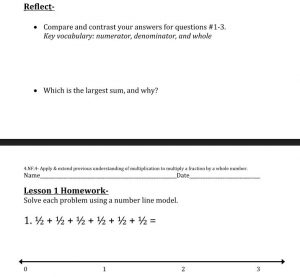 4.NF.B.4
Apply and extend previous understandings of multiplication to multiply a fraction by a whole number.