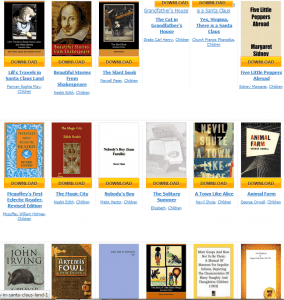 Read Any Book - Hundreds of books online.  Fiction and non fiction (informational text). Read on site or download them for free. Put into categories such as mystery, comedy, poetry, etc.
Read Any Book Children - A direct link to the free online children books.

CCSS.ELA-Literacy - English Language Arts Standards » Reading: Literature & Informational Text » K-5
*Can cover all CCSS ESL standards so that students gain adequate exposure to a range of texts and tasks. Rigor is also infused through the requirement that students read increasingly complex texts through the grades.