Key Idea and Details: Main Idea – Intermediate
Key Idea and Details: Main Idea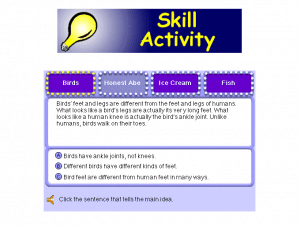 Main Idea - Select a topic, read the passage and then select from multiple choice, the main idea of the paragraph. If you get the answer correct you get three picks for letters and try to figure out the mystery phrase.
Key Ideas and Details
CCSS.ELA-Literacy.RL.3.1 Ask and answer questions to demonstrate understanding of a text, referring explicitly to the text as the basis for the answers.