Main Idea Worksheets (Key Ideas and Details)
Main Idea Worksheets: Key Ideas and Details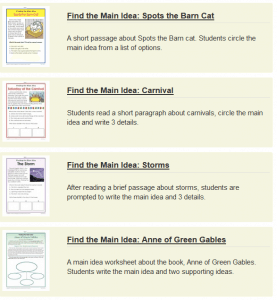 Main Idea Worksheets - Free printable PDF worksheets. Also downloadable to use on a Smart Board. The main idea, also called the central idea or main point, is the primary concept of a passage. It represents the essential point that the author is trying to convey. The main idea may be clearly stated as a sentence. The main idea is usually reinforced by a series of other points or details which support the premise of the main idea. These are called supporting ideas and may also be stated or implied.
Key Ideas and Details
CCSS.ELA-Literacy.RL.3.1 Ask and answer questions to demonstrate understanding of a text, referring explicitly to the text as the basis for the answers.